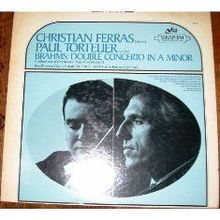 Vintage LP "Christian Ferras (Violin) Paul Tortelier (Cello) Brahms: Double Concerto in A Minor"
$14.99
Retail Price:
$24.99
You Save:

$10.00

(40%)

RARE VINTAGE CLASSICAL CHAMBER MUSIC SERAPHIM RECORDS 60048 SLEEVE IS IN GOOD CONDITION - LP IS IN EXCELLENT CONDITION COMPOSED BY JOHANNES BRAHMS The stature of Johannes Brahms among classical composers is well illustrated by his inclusion among the "Three Bs" triumvirate of Bach, Beethoven, and Brahms. Of all the major composers of the late Romantic era, Brahms was the one most attached to the Classical ideal as manifested in the music of Haydn, Mozart, and especially Beethoven; indeed, Hans von Bülow once characterized Brahms' Symphony No. 1 (1855-1876) as "Beethoven's Tenth." As a youth, Brahms was championed by Robert Schumann as music's greatest hope for the future; as a mature composer, Brahms became for conservative musical journalists the most potent symbol of musical tradition, a stalwart against the "degeneration" represented by the music of Wagner and his school. Brahms' symphonies, choral and vocal works, chamber music, and piano pieces are imbued with strong emotional feeling, yet take shape according to a thoroughly considered structural plan. Concerto for violin, cello & orchestra in A minor ("Double"), Op. 102 Brahms wrote this work during the summer of 1887, and conducted the premiere himself on October 18 in Cologne, with Joseph Joachim and Robert Hausmann as, respectively, the violin and cello soloists. Brahms had just turned 20 when he met Joseph Joachim (1831-1907), already a celebrated violinist at 22 and destined to be acclaimed also as a composer, conductor, and educator. It was Joachim who commended his new friend to Robert and Clara Schumann, thereby assuring his celebrity. For 30 years the two were fast friends despite the distance usually separating their power bases: Joachim's in Berlin, Brahms' in Vienna finally. "Jussuf," however, had a weakness — obsessive jealousy of his wife Amalie, whom he accused of adultery in 1881 with his (and Brahms' and Dvorák's) publisher, Fritz Simrock. Brahms disbelieved, and said so in a consolatory letter to Frau Joachim. During divorce hearings she produced this letter in court, and the judge agreed publicly with its contents. As a result, Joachim cut off communications with Brahms for six years, although he continued to play the composer's music. Finally, seeking to repair the damage, Brahms composed the "Double" Concerto as a peace offering; the effort was successful, although their camaraderie of former years was never fully restored. In addition to composing the "Thun" sonatas of 1886 for violin and cello, Brahms had been studying Baroque concerti grossi, so the sound of string instruments was in his ear. This concerto would be his last orchestral work. performed by CHRISTIAN FERRAS, Violin and PAUL TORTELIER, Cello A consummate artist whose approach to the cello was directed toward breathing life into the music, Paul Tortelier earned the respect and affection of countless colleagues. An enduring friendship with Pablo Casals found him playing, in the words of a French critic, Apollo to Casals' Jupiter. Like Casals, Tortelier emphasized using but one finger at a time on the string to allow free vibration. Fantasy and emotional freedom marked his performances and attracted numerous young players. Given a cello by his mother at age six, Tortelier was prompted toward a career from the beginning. His first teacher, Beatrice Bluhm, exposed young Paul to the flexible wrist and free bowing arm favored by the Franco-Belgian School. At ten, Tortelier entered the Paris Conservatoire, where his studied with Gérard Hekking, who encouraged a sense of rhythmic freedom and instilled in his pupil an abiding love for Bach. While his lessons continued, he performed in Paris cafés and cinemas; at 16, he graduated from the Conservatoire with a first prize. After joining the Paris Radio Orchestra as assistant principal, Tortelier made a debut with Lamoureux Concert Association, all the while studying harmony with Jean Gallon at the Conservatoire. Completion of those courses brought another first prize, this time in composition. As a member of the Monte Carlo Symphony Orchestra, Tortelier played under the direction of Toscanini and Walter and performed as soloist in Richard Strauss' Don Quixote under the composer's direction. Though his career advanced in the late 1930s, taking him to Asia and Africa, as well as North and South America, WWII curtailed his activities. After the war, he resumed his concert appearances. Impressed by efforts to establish Israeli statehood, Tortelier (a Catholic) moved his family to Mabaroth, a kibbutz only several hundred yards from the enemy border. The first Prades Festival, celebrating the 200th anniversary of Bach's death in 1950, drew an invitation from Casals to be principal cellist. From 1956 to 1969, Tortelier was a professor at the Paris Conservatoire; from 1969 to 1975, he taught at the Folkwang Hochschule in Essen, Germany. Conducting occupied more of his time in later years, as did composition (two concertos included). His book, How I Play, How I Teach, has become a standard text for performance of modern cello works. with the PHILHARMONIA ORCHESTRA conducted by PAUL KLETZKI Paul Kletzki was a highly respected conductor in the middle years of the 1900s. He was a composition student at the Warsaw Conservatory and the Berlin Academy. He had taken violin as a boy and continued his studies on that instrument in Warsaw with Emil Mlynarski. His first professional job was as a member of the Lodz Philharmonic Orchestra. Meanwhile, he was composing. When he debuted as a conductor in Berlin in 1923 it was in a concert of his own compositions. He settled in Berlin, where he conducted and composed actively. He left Germany in 1933 when he went to Venice and Milan and received an invitation to teach composition and orchestra at the Milan Scola Superiore di Musica. From 1937 to 1938 he was the musical director of the Kharkov Philharmonic Orchestra in the U.S.S.R. At the end of that term he left for Switzerland, where he remained. He took Swiss citizenship in 1947. Kletzki conducted widely after the War. He came into demand for his qualities of lucidity and power, together with fresh conceptions of the music. He was particularly in demand as a guest conductor in South and Central America, and had a close association with the Israel Philharmonic. He was music director of the Dallas Symphony Orchestra (1958 - 1962), the Bern Symphony Orchestra (1964 - 1966), and the Orchestra of Suisse Romande (1968 - 1970). He had received considerable praise for his compositions, particularly before World War II, when he had more time to write. However, most of his output was lost in the destruction of World War II. and additionally on side 2 LUDWIG van BEETHOVEN's Sonata for violin & piano No. 1 in D major, Op. 12/1 Beethoven inaugurates his first Violin Sonata with a brief fanfare played in octaves by both instruments; this melts into a smoother yet still energetic melody (the tempo is Allegro con brio) that is essentially an expansion of the fanfare. By this point, Beethoven has already laid out all the raw material for the sonata- form movement, even though the exposition is far from over. The thematic ideas simply evolve from each other, in a quick preview of the technique of thematic metamorphosis that Franz Liszt would advocate decades later. Beethoven thoroughly works over all this material in the development section, but only as he approaches the recapitulation does he combine the fanfare with its smooth variant, thus making their relationship explicit. Sibelius would later employ a similar trick, but in a more complex way, in the first movement of his Second Symphony. In the second movement, Andante con moto, a broad, noble theme introduced by the piano is then taken up by the violin, with four variations. The first variation, dominated by the keyboard, is formal and ornate, with the violin playing a subsidiary role. The second variation offers the violin its own florid showcase, with the keyboard in a burbling accompaniment. The movement takes a dramatic turn with the third variation; it slips into the minor mode and wrenches the instruments through sudden dynamic contrasts and key shifts. Calm prevails once again in the last variation, although the theme is now hidden in the syncopated inner voice of the piano part. Syncopation rules the main theme of the rondo finale (Allegro). It's an ebullient 6/8 tune with the accent shifted to the second beat, but it makes way for more expansive melodies for the violin over animated piano accompaniment. One of these, a soaring F-major theme, returns to lead the movement through its coda, which Beethoven elongates by modulating through some surprisingly distant keys. performed by CHRISTIAN FERRAS, Violin PIERRE BARBIZET, Piano
You might also be interested in...